Black Pepper Chops with Molasses Butter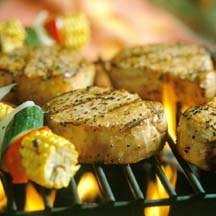 There's almost nothing to compare to the aroma of pork on the grill; and these chops live up to that taste memory. The molasses butter adds an unexpected and pleasant flavor punch to chops hot-off-the-grill.
Recipe Ingredients:
4 boneless center loin chops, 1 1/2-inch thick
1/4 cup butter
1 tablespoons molasses
1/2 teaspoon lemon juice
4 tablespoons coarsely ground black pepper
Cooking Directions:
In small bowl blend butter, molasses and lemon juice with fork. Cover and refrigerate.
Rub chops on both sides evenly with pepper.
Grill chops over a medium-hot fire for 12 to 15 minutes, turning once.
Top each chop with a tablespoon of molasses butter.
Makes 4 servings.
Nutritional Information Per Serving (1/4 of recipe): Calories 376 calories Protein 36 grams Fat 22 grams Sodium 211 milligrams Cholesterol 136 milligrams.
Recipe and photograph provided courtesy of National Pork Board.