Bombay Pork Skillet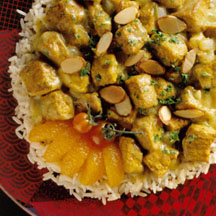 When mixing this spice blend together, you are making your own curry powder without the turmeric (the ground root that gives curry powder its characteristic orange-yellow color). Accompany this dish with warm flour tortillas, Corn & Cumin Raita and Mandarin Salad with Candied Almonds.
Recipe Ingredients:
4 boneless pork chops, cut into 3/4-inch cubes
2 teaspoons ground cumin
1 teaspoon ground cardamom
1 teaspoon ground cinnamon
1 teaspoon ground coriander
1 teaspoon ground mace
1/2 teaspoon ground black pepper
1/4 teaspoon salt
1 tablespoon vegetable oil
2 large onions, chopped
3 cloves garlic, crushed
3/4 cup beef broth
3 tablespoons honey
2 tablespoons lemon juice
1 cup plain yogurt
2 tablespoons all-purpose flour
1/4 cup chopped parsley
Hot cooked rice for accompaniment
Chopped cashews for garnish
Chopped fresh cilantro for garnish
Cooking Directions:
Put cumin, cardamom, cinnamon, coriander, mace, pepper and salt in large plastic bag; shake to blend. Add pork pieces, shake gently to coat pork.
Heat oil over medium-high heat in large skillet; cook and stir onions and garlic until tender. Add pork, cook and stir for 2 to 3 minutes or until browned.
Stir in broth, honey and lemon juice, bring to a boil; reduce hat, cover and simmer 10 minutes or until pork is tender.
In small bowl stir together yogurt and flour; stir into skillet with parsley. Cook and stir over medium heat, until mixture thickens.
Spoon pork mixture over hot cooked rice, garnish with chopped cashews and chopped fresh cilantro.
Makes 4 servings.
Nutritional Information Per Serving (1/4 of recipe):Calories 330 calories; Protein 28 grams; Fat 10 grams; Sodium 250 milligrams; Cholesterol 70 milligrams; Saturated Fat 2 grams; Carbohydrates 32 grams; Fiber 2 grams.
Recipe and photograph provided courtesy of National Pork Board.