Caribbean Barbecued Pork Chops
with Vegetable Kabobs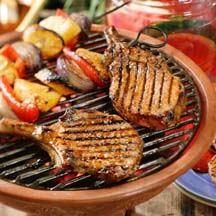 Pork chops and vegetable kabobs with tropical pizzazz! Many large grocery stores now have plantains in their produce aisle. Grill the chops and the kabobs at the same time.
Recipe Ingredients:
8 wooden skewers
8 bone-in pork rib chops, 3/4-inch thick
1/4 cup ground cumin
1 teaspoon kosher salt, or sea salt
Vegetable Kabobs:
1 white onion, cut into 1-inch pieces
2 yellow plantains, peeled and cut into 1-inch pieces
2 large red bell peppers, cut into 1-inch pieces
1 pineapple, cut into 1 1/2-inch pieces
1 cup honey barbecue sauce
Cooked long grain white rice for accompaniment
Cooking Directions:
Soak wooden skewers in water for 30 minutes.
Prepare medium-hot grill.
Combine cumin and salt and press evenly onto both sides of pork rib chops.
For Vegetable Kabobs: Thread mix of vegetables and fruit on each skewer.
Grill chops and kabobs for 8 to 10 minutes, until internal temperature on a thermometer reads 160°F (70°C) and kabobs are turning to brown. Brush with honey barbecue sauce during final 5 minutes of cooking.
Serve with white rice.
Makes 8 servings.
Nutritional Information Per Serving (1/8 of recipe; 1 rib chop and 1 kabob): Calories: 272 calories; Protein: 21 grams; Fat: 5 grams; Sodium: 710 milligrams; Cholesterol: 45 milligrams; Saturated Fat: 1 grams; Carbohydrates: 40 grams; Fiber: 4 grams.
Recipe and photograph provided courtesy of National Pork Board.