Carolina-Style Pulled Pork Shoulder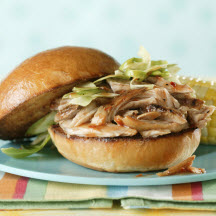 Long and slow is the way to prepare shoulder for this pulled pork. Serve on toasted buns with coleslaw and potato salad. End the meal with icy watermelon slices.
Recipe Ingredients:
Hardwood chips, soaked in water for 1 hour
1 (5-pound) boneless pork butt (shoulder)
Rub:
2 tablespoons salt
2 tablespoons paprika
1 tablespoon black pepper
2 teaspoons cayenne
Baste:
1/2 cup bourbon
2 tablespoons molasses
1 1/2 cups cider vinegar
1 cup water
2 to 4 chopped chipotle peppers
2 tablespoons salt
1 tablespoon crushed red pepper
1 tablespoon black pepper
Sandwich buns for serving
Cooking Directions:
In a small bowl, mix together the rub ingredients, set aside.
In a saucepan, mix together the baste ingredients, simmer for 5 minutes. Divide into two portions; set aside.
Rub pork shoulder on all surfaces with rub mixture; cover and refrigerate up to 24 hours.
In a charcoal grill with a cover, place preheated coals around a drip pan for medium indirect heat. Sprinkle half of the wood chips over the coals. Place meat on grill rack over drip pan. Cover and grill about 5 to 6 hours or until meat is very tender. Add more preheated coals (use a hibachi or a metal chimney starter to preheat coals), wood chips every 1 to 1 1/2 hours, to maintain a medium-low heat. Smoke until internal temperture is about 170°F (80°C). Baste shoulder with one portion of sauce every 20 to 30 minutes during the last 2 hours of cooking.
Remove meat from grill; cover with foil and let stand for 20 to 30 minutes.
Using a fork, shred meat into long, thin strands. Pour remaining sauce over shredded meat; toss to coat.
Serve on sandwich buns.
Makes 12 servings.
Recipe and photograph provided courtesy of National Pork Board.