Cherry Cola Ribs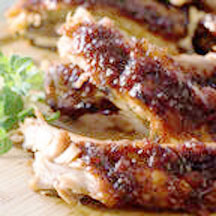 Wow your family and guests with this finger-licking-good recipe for baby back ribs that are first slow-baked in cola, and then finished off at high heat with a cooked glaze made with cola, puréed maraschino cherries, chili-garlic sauce, Dijon mustard, apple cider vinegar and brown sugar.
Recipe Ingredients:
5 pounds baby back ribs
1 (2-liter) bottle cola (regular only, do not use diet/sugar-free)
Salt and freshly ground black pepper
1 (10-ounce) bottle maraschino cherries without stems
1 to 2 teaspoons chili garlic sauce
2 teaspoons Dijon mustard
1 tablespoon apple cider vinegar
2 to 4 tablespoons brown sugar, packed
Cooking Directions:
Flip the ribs bone side up and insert a dinner knife just under the white membrane that covers the meat and bones. Gently peel the membrane off. Place ribs in a baking dish or roasting pan and pour the cola over. Cover with plastic wrap and refrigerate overnight.
Preheat oven to 275°F (135°C). Remove the ribs from the cola, reserving the cola for the sauce. Pat the ribs dry with paper towels and season liberally with salt and pepper on both sides. Pour the cola into a saucepan, wipe of the baking dish or roasting pan and return the ribs to the pan. Cover with foil and bake for 3 to 3 1/2 hours or until the meat is very tender.
While the ribs are baking, make the glaze. Puree the maraschino cherries, with the juice, in a blender or small food processor. Add to the cola in the sauce pan. Add 1 teaspoon of chili garlic sauce, the mustard, vinegar and 1/2 teaspoon of both salt and pepper. Bring to a boil. Continue to boil, uncovered until the liquid reduces down to about 1 cup and is very thick. Skim the foam off the top of the mixture occasionally and stir once in a while. When the mixture is reduced and thick, taste it - you may want to add some more chili garlic sauce if you like it spicier and some brown sugar if you want it sweeter - this is to taste. Also check to see if it needs more salt and pepper. Reserve glaze until the ribs are done.
When the ribs have finished baking in the oven, remove and turn the heat up to 500°F (260°C) (or you can use the broiler - turn to high). Place ribs on a baking sheet, bone side down, and brush the glaze liberally over the top. Cook or broil for about 5 minutes, watching to make sure the glaze does not burn.
Makes 4 to 6 servings.
Recipe and photograph provided courtesy of www.nationalcherries.com; through ECES, Inc., Electronic Color Editorial Services.