Choucroute Garni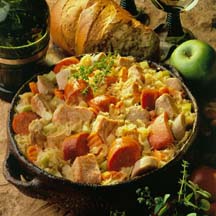 Literally 'garnished cabbage', this classic Alsatian dish features mellow sauerkraut garnished indeed—with a wealth of smoked meats. Serve an Alsatian white wine with this dish, and lightly buttered rye bread or pumpernickel.
Recipe Ingredients:
4 pounds refrigerated sauerkraut, rinsed well and drained
1/2 pound bacon, diced
2 large onions, peeled and coarsely chopped
3 carrots, pared and sliced
1/2 cup parsley , chopped
2 bay leaves
10 black peppercorns
10 juniper berries
4 whole cloves
3 cups fruity white wine (Riesling)
4 cups chicken broth
1 pound boneless pork loin, cubed
1/2 pound ham, cubed
1 pound smoked sausage, sliced
1 pound bratwurst, sliced
2 tart green apples, cored and coarsely chopped
Cooking Directions:
In a large Dutch oven, or other kettle with lid, slowly cook bacon with carrots and onion over medium heat, stirring occasionally, about 8 to 10 minutes.
Place parsley, bay leaves, peppercorns, juniper berries and cloves in cheesecloth bag or large tea strainer. Add to pot along with sauerkraut, wine and broth. Bring to a boil; cover and simmer for 1 hour.
Add pork loin, ham, sausage, and bratwurst; simmer another hour.
Add apples and simmer for 20 minutes more.
Serve immediately or refrigerate overnight and reheat to serve.
Makes 10 servings.
Recipe and photograph provided courtesy of Pork, Be Inspired.