Cinnamon Pork Roast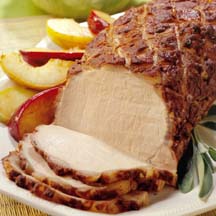 A surprising pleasant, touch of cinnamon sweet, mildly hot flavor is imparted in this very special, savory roast.
Recipe Ingredients:
3 1/2 to 4 pounds boneless pork loin roast
2 tablespoons ground cinnamon
2 tablespoons salt
1 teaspoon freshly ground white pepper
2 tablespoons granulated sugar
1 onion, finely grated
4 garlic cloves, minced
1 to 2 tablespoons soy sauce
Cooking Directions:
Combine cinnamon, salt pepper, sugar, onion, and garlic. Blend in 1 tablespoon soy sauce. If not spreadable, add another tablespoon of soy sauce. Rub mixture into loin. Refrigerate 3 hours to overnight.
Grill pork over medium-low indirect fire 1 1/4 to 1 1/2 hours (about 20 minutes per pound) or until the internal temperature is 155°F (approximately 65°C).
Allow to rest for 5 to 10 minutes before cutting into thin slices.
Serves 10 to 12.
Recipe and photograph provided courtesy of National Pork Board.