Coffee-Spice Rubbed Ribs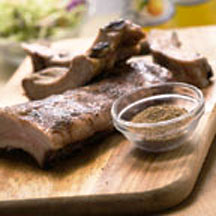 Perfect for outdoor entertaining, these delicious ribs are made with a unique coffee rub mixture that features a hint of cocoa.
Recipe Ingredients:
2 racks (about 4 pounds total) baby back ribs
2 1/2 teaspoons packed brown sugar
1 1/4 teaspoons NESCAFÉ TASTER'S CHOICE 100% Pure Instant Coffee Granules
1 1/4 teaspoons sea or kosher salt
1 1/4 teaspoons garlic powder
1 1/4 teaspoons ground coriander
3/4 teaspoon freshly ground black pepper
1/4 teaspoon NESTLÉ® TOLL HOUSE® Baking Cocoa
1 teaspoon vegetable oil
1 (12 ounce) bottle amber ale or 1 1/2 cups dry red wine
Cooking Directions:
Fit rack inside large roasting pan or rimmed baking sheet. Using knife, remove membranes from bone side of ribs (this step is very important for tender ribs). Pat ribs dry with paper towel; place on rack with meat side up.
Combine sugar, coffee granules, salt, garlic powder, coriander, pepper and cocoa in coffee or spice grinder; cover. Process until smooth. Lightly rub ribs with oil. Sprinkle with rub mixture, pressing gently to help it adhere to the ribs. Let stand at room temperature for no more than 1 hour.
Preheat oven to 250°F (120°C). Pour beer into bottom of roasting pan. Cover pan with foil; bake for 4 to 5 hours (this will be long enough for the meat to be very tender, but not falling off the bones).
Preheat grill. Grill ribs over medium flame, turning once, for 5 minutes.
Makes 8 servings.
Tip: Double or triple the spice rub and store in a tightly sealed container in a cool, dry place. It will remain fresh for up to 1 month. Use 2 to 3 teaspoons rub per pound of meat. Rub is also great on pork chops, pork tenderloin, skinless chicken breasts and salmon fillets'
Nutritional Information Per Serving (1/8 of recipe): Calories: 390 Calories from Fat: 170 Total Fat: 19 g Saturated Fat: 6 g Cholesterol: 145 mg Sodium: 520 mg Carbohydrates: 4 g Dietary Fiber: 0 g Sugars: 1 g Protein: 44 g.
Recipe and photograph are the property of Nestlé® and Meals.com, used with permission.