French Onion Pork Chops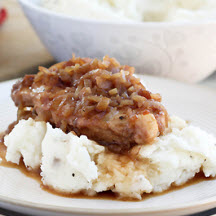 These chops were made for mashed potatoes, especially if you spoon a little of the onion sauce on top. They'd also be good with steamed broccoli or cauliflower, or mashed butternut squash. Recipe by Cassie Laemmli of bakeyourday.net.
Recipe Ingredients:
4 (4-ounce) New York (top loin) pork chops, about 1-inch thick
1 tablespoon olive oil
2 cups onions, halved, thinly sliced
1 teaspoon salt
2 teaspoons water
1 teaspoon granulated sugar
1/2 cup beef broth
1 (1-ounce) package onion soup mix
1/2 teaspoon ground black pepper
Cooking Directions:
In a medium skillet over medium heat, warm the oil. Stir in the onion. Stir in the salt and cook, stirring occasionally, until the onions are tender, about 5 minutes.
Stir in the water and sugar, reduce the heat to very low, and cook, stirring occasionally, until the onions are deep golden brown, about 20 minutes. Remove from the heat and set aside.
Preheat the oven to 350°F (175°C).
Spray an 8x8x2-inch baking pan with nonstick spray. Arrange the onions in the bottom of the pan and the pork chops on top.
In a small bowl, combine the broth, soup mix and pepper, then pour the mixture over the pork. Cover tightly with foil.
Bake until internal temperature of the pork reaches between 145°F (62.7°C) for medium rare, and 160°F (71.1°C) for medium, 40 to 45 minutes.
Serve the chops with the onions and pan sauce spooned on top.
Makes 4 servings.
Recipe and photograph provided courtesy of National Pork Board.