Fresh Pear and Pork Tostadas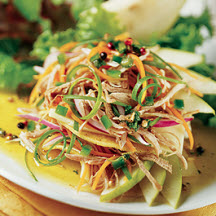 Recipe courtesy of U.S.A. Pears.
Recipe Ingredients:
Tostada:
1 pound pork tenderloin, cubed
1/2 onion, cut into chunks
1 clove garlic, minced
Vegetable oil, as needed
10 corn tortillas
2 carrots, peeled, grated
1/2 red onion, thinly sliced
1 bundle fresh chives
3 Anjou, Bosc, or Red Anjou USA Pears, sliced and cored
Fresh lemon juice
3 cups shredded cheddar cheese
1 head lettuce, grated
Dressing:
1/2 cup olive oil
1 teaspoon freshly ground black pepper
2 jalapeño peppers, seeded and chopped
1 teaspoon cilantro seeds
3 tablespoons vinegar
Salt and ground black pepper to taste
Cooking Directions:
Preheat water to boiling in a saucepan. Add the pork meat with the onion and the garlic clove; season with salt and pepper.
While the meat is cooking, mix the dressing ingredients. Season with salt and pepper to taste and set aside.
Add a little oil to a frying pan and brown the tortillas until they are golden and crisp.
When the pork is cooked, shred meat and mix with grated carrots, red onion, and chives; mix well and season with additional salt and pepper to taste.
Slice the pears and bathe the pears in a light lemon and water solution to prevent browning.
Place one tortilla on each serving plate; add 1/2 cup cheese and a spoonful of meat. Top with a second tortilla, lettuce, and pear slices. Pour dressing over top or serve with dressing on the side.
Makes 5 servings.
Recipe and photograph courtesy of U.S.A. Pears.