Gluten-Free Sweet and Sour Pork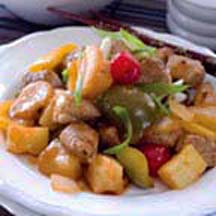 "The maraschino cherries add not only a nice pop of color but a great sweet counter point to the tang of the pineapple, onions and peppers and the richness of the pork." - TV Chef Carol Kicinski.
Recipe Ingredients:
1 1/2 pounds lean pork tenderloin, cut into 1-inch cubes
2 teaspoons finely grated fresh ginger
2 garlic cloves, finely minced
1/2 teaspoon crushed red pepper flakes – divided use
9 tablespoons gluten free chicken stock – divided use
1/4 cup ketchup
1/4 cup granulated sugar
3 tablespoons apple cider vinegar
3 tablespoons wheat free soy sauce
3 teaspoons corn starch
2 tablespoons peanut or vegetable oil
1 medium white onion, cut into 1 inch pieces
2 bell peppers (green, red, yellow or orange or a combination) cut into 1 inch pieces
1 (8-ounce) can water sliced water chestnuts in water, drained
1 (20-ounce) can pineapple chunks in juice, drained and juice reserved
18 maraschino cherries, drained and patted dry
1 green onion, thinly sliced on the diagonal for garnish
Cooking Directions:
In a mixing bowl, toss the pork pieces with the ginger, garlic and ¼ teaspoon crushed red pepper flakes. Let set while preparing the rest of the ingredients.
Prepare the sauce by mixing 1/4 cup of the reserved pineapple juice with 6 tablespoons chicken stock, the ketchup, sugar, vinegar, soy sauce and remaining 1/4 teaspoon crushed red pepper flakes in a small mixing bowl.
In another small bowl mix the remaining 3 tablespoons of chicken stock with the corn starch until well blended.
Heat a wok or large skillet over high heat. Add the oil and swirl it to coat the sides and bottom of the pan. Add the pork mixture and stir fry for 5 minutes or until they are cooked through. Remove the pork from the pan to a plate and set aside. Add the onions, peppers and sliced water chestnuts and stir fry until crisp-tender, about 3 minutes. Add the sauce mixture to the vegetables and cook, stirring until the sugar dissolves and it comes to a boil. Add the cornstarch mixture, the pork (along with any juices that have accumulated on the plate), the pineapple chunks and the maraschino cherries. Cook until everything is heated through and the sauce has thickened, about 2 minutes.
Garnish with sliced green onions and serve with hot rice.
Makes 6 servings.
Recipe by Carol Kicinski of Simply...Gluten-free www.simplygluten-free.com.
Recipe and photograph provided courtesy of Nationalcherries.com; through ECES, Inc., Electronic Color Editorial Services.