Granny Smith's Pork Skillet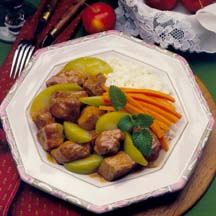 Although it can be served all year round, this hearty stovetop supper seems perfect for a cool autumn day. Serve over noodles and accompany with red cabbage slaw and buttered rye bread.
Recipe Ingredients:
1 pound pork cubes, 1/2-inch (fresh pork leg, tenderloin or loin)
1 teaspoon vegetable oil
4 Granny Smith apples, cored and sliced into 1/2-inch wedges
1 cup dry white wine or chicken broth
1/2 cup brown sugar
1/4 cup cider vinegar
3 tablespoons cornstarch stirred into 1/2 cup cold water
2 tablespoons Worcestershire sauce
1/2 teaspoon salt
1/4 teaspoon freshly ground black pepper
Cooking Directions:
Heat oil in large nonstick skillet over medium-high heat. Add pork and brown on all sides.
Add apple slices, cook and stir for 3 minutes, until apples soften.
Add 1/2 cup wine, reduce heat, cover and simmer 10 minutes.
Add brown sugar, vinegar, cornstarch mixture, Worcestershire, salt and pepper with remaining wine to skillet. Cook over medium heat, stirring constantly until sauce thickens.
Makes 4 servings.
Nutritional Information Per Serving (1/4 of recipe): Calories 450 calories Protein 25 grams Fat 8 grams Sodium 1040 milligrams Cholesterol 65 milligrams Saturated Fat 2 grams Carbohydrates 61 grams Fiber 3 grams.
Recipe and photograph provided courtesy of National Pork Board.