Grilled Jamaican Jerk Pork Chops
with Raisin-Rum Sauce and Garlic Sweet Potatoes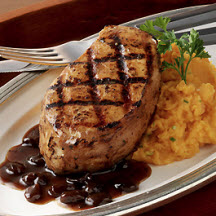 Recipe courtesy of California Raisin Marketing Board.
Recipe Ingredients:
Pork Chops:
6 (4-ounce) center cut pork chops
1 cup prepared Jamaican Jerk Marinade
Garlic Sweet Potatoes:
4 small sweet potatoes
1 tablespoon olive oil
2 teaspoons chopped garlic
1 tablespoon chopped and seeded serrano pepper
Salt and ground black pepper, to taste
Raisin-Rum Sauce:
1 cup spiced dark rum
1 cup California raisins
1/2 cup brown sugar, packed
Cooking Directions:
Combine pork chops and marinade in a large resealable bag. Allow to stand in refrigerator for at least 4 hours, turning once or twice.
Scrub potatoes and bake at 350°F (175°C) for 1 hour or until sharp knife inserted in center pierces easily. Meanwhile, heat oil in a small skillet and sauté garlic and pepper for 3 to 4 minutes until pepper is soft.
When potatoes are done, cut in half and scoop pulp into a mixing bowl. Discard skins. Add sautéed garlic and pepper to bowl; mix well. Season to taste. Keep warm.
Remove chops from marinade, reserving marinade, and set aside.
Combine rum, raisins, brown sugar and reserved marinade in a saucepan. Bring to boil over medium-high heat and reduce to 1 1/2 cups. Season to taste.
Grill pork chops for 2 to 3 minutes on a hot grill, turning 1/4 turn and grilling an additional 2 to 3 minutes. Turn pork chops over and repeat until done 170°F (76.6°C).
Place a scoop of Garlic Sweet Potatoes in center of each plate. Lean a pork chop against potatoes and spoon 1/4 cup of Raisin-Rum Sauce over all.
Makes 6 servings.
Tip: To reduce calories and sodium, brush chops with marinade and reduce marinade to 1/4 cup in sauce. Also reduce rum to 1/4 cup and sugar to 2 tablespoons to make 580 calories and 430mg (18%) sodium.
Nutritional Information Per Serving (1/6 of recipe): Calories: 740; Total Fat: 34g; Saturated Fat: 12g; Cholesterol: 80mg; Total Carbs: 57g; Fiber: 2g; Sugar: 49g; Protein: 32g; Sodium: 1160mg; Potassium: 478mg.
Recipe and photograph courtesy of California Raisin Marketing Board.