Grilled Pork Parmesan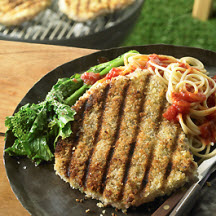 Yes, it is possible to take breaded protein out of the frying pan, leaving the fat in the kitchen, while adding the unmistakable flavor of the charcoal grill. When you substitute the grill for the frying pan and a pork chop for the traditional chicken in this Italian dish, you'll be happy you broke all the rules. Recipe created by world champion pitmaster Chris Lilly on behalf of Kingsford® charcoal.
Recipe Ingredients:
Dry Rub:
4 1/2 tablespoon freshly grated Parmesan cheese fine
1 tablespoon paprika
1 tablespoon granulated sugar
1 tablespoon garlic salt
1 1/2 teaspoons onion salt
1 1/2 teaspoons ground black pepper
1 1/4 teaspoons dried basil
1 1/4 teaspoons dried oregano
6 butterflied pork chops, cut thin 1/4-1/2-inch thick
2 large eggs
2 tablespoon milk
Panko bread crumbs
Prepared spaghetti
Favorite pasta sauce
Cooking Directions:
Build a charcoal fire for direct grilling to a temperature of approximately 450°F (230°C).
While the grill preheats, combine the dry rub ingredients in a small bowl and mix well.
In a separate bowl scramble both eggs and stir in the milk, creating an egg wash. Make a bed of panko bread crumbs on a large plate.
Season each pork chop heavily with the Parmesan dry rub and press the seasoning into the pork chops. Dip each chop into the egg wash and then cover both sides evenly with bread crumbs.
Grill the chops directly over the hot coals for 3 to 3 1/2 minutes on each side until the internal temperature is 145°F (62.7°C).
Remove the pork chops from the grill and serve them over a bed of spaghetti noodles and topped with your favorite pasta sauce.
Makes 6 servings.
Recipe and photograph provided courtesy of National Pork Board.