Herb-Stuffed Pork Tenderloin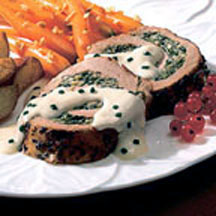 An elegant roasted pork tenderloin stuffed with your favorite fresh herbs and served with a simple mustard sauce.
Recipe Ingredients:
2 tablespoons Dijon-style mustard
18 ounces pork tenderloin
1 1/2 cups shredded romaine
1/2 cup assorted snipped fresh herbs (such as sage, thyme, rosemary, dill, and/or basil)
3 tablespoons fine dry bread crumbs
1 slightly beaten egg white
2 teaspoons olive oil or cooking oil
Coarsely ground black pepper
Snipped fresh chives (optional)
Mustard Sauce (see below)
Cooking Directions:
Trim any fat from meat. Using a sharp knife, make a lengthwise cut down the center of roast, cutting to, but not through, the other side. Spread the meat flat. Place tenderloin between 2 sheets of plastic wrap and pound meat lightly with the flat side of a meat mallet to about a 13x8-inch rectangle. (If necessary, use a portion of a second tenderloin to make 18 ounces. Overlap and pound the pieces to make a single rectangle.) Fold in the narrow ends as necessary to make an even rectangle. Spread mustard evenly over tenderloin.
Stir together romaine, herbs, bread crumbs, and egg white in a medium bowl. Spoon evenly over pork. Roll tenderloin up jelly-roll style, beginning at narrow end. Tie meat with string, first at center, then at 1-inch intervals.
Place meat on rack in a shallow roasting pan. Brush oil over meat. Sprinkle with pepper. Roast, uncovered, in a 375°F (190°C) oven for 50 to 60 minutes or until meat is tender and slightly pink (160°F / 70°C) and juices run clear. Transfer to a warm platter. Remove strings; keep warm while preparing sauce. To serve, cut tenderloin into 12 slices. Spoon Mustard Sauce over each serving. Sprinkle with chives if desired.
Makes 6 servings.
Mustard Sauce: In small saucepan combine 1/3 cup plain fat-free yogurt, 2 tablespoons fat-free mayonnaise or salad dressing, 1 1/2 to 2 teaspoons Dijon style mustard, and 1 teaspoon honey. Cook over low heat for 2 to 3 minutes or just until heated through. Do not boil. Serve immediately with pork slices.
Nutritional Information Per Serving (1/6 of recipe): Calories 162, Total Fat (g) 5, Saturated Fat (g) 1, Cholesterol (mg) 61, Sodium (mg) 308, Carbohydrate (g) 6, Protein (g) 21, Percent Daily Values are based on a 2,000 calorie diet.
Recipe and photograph provided by Better Homes and Gardens - BHG.com a member of the Home and Family Network for the best of cooking, gardening, decorating and more. © 2003 Meredith Corporation. All Rights Reserved.