Hoisin Orange Pork with Asian Vegetables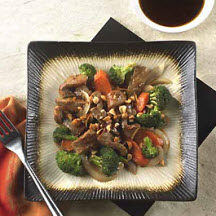 Recipe courtesy of the American Diabetes Association and CanolaInfo.
Recipe Ingredients:
3/4 pound boneless pork chops, trimmed of fat, cut into very thin strips
1 tablespoon reduced-sodium soy sauce
3 tablespoons unsalted, dry roasted peanuts, toasted and finely chopped
2 medium carrots, thinly sliced diagonally
2 cups small broccoli florets
1 medium onion, cut into 1/4-inch wedges
1/4 cup water
1 tablespoon, plus 1 teaspoon canola oil - divided use
Sauce:
3 tablespoons hoisin sauce
2 tablespoons cider vinegar
1 tablespoon granulated sugar
2 teaspoons orange zest
1/4 teaspoon dried red pepper flakes
Cooking Directions:
Place pork strips on a dinner plate, spoon 1 tablespoon soy sauce over all, and toss to coat well. Let stand 15 minutes in the refrigerator.
Meanwhile, heat a large nonstick skillet over medium-high heat. Add nuts and cook 2 to 3 minutes or until they begin to brown, stirring frequently. Place on a separate plate and set aside.
Place carrots, broccoli, onion, and water in a microwave-safe shallow pan, such as a glass pie pan, cover, and microwave on high power 2 minutes or until vegetables are just tender-crisp. Drain in a colander, shaking off any excess liquid.
For Sauce: Combine ingredients in a small bowl; set aside.
Heat 1 teaspoon canola oil in a large nonstick skillet over medium-high heat. Tilt skillet to coat lightly, add pork, and cook 3 minutes or until lightly pink in the center and juices run clear, using two utensils to toss easily. Set aside on a separate plate.
Heat remaining 1 tablespoon canola oil, add vegetables, and cook 4 minutes or until tender-crisp and beginning to lightly brown on the edges. Place vegetables on a serving platter.
Add pork and any accumulated juices to skillet, cook 30 seconds to heat thoroughly, and place on top of vegetables on serving platter.
Add sauce to skillet and cook 20 to 30 seconds to heat, stirring constantly, until reduced slightly. Spoon over pork and sprinkle with nuts. Serve immediately for peak flavors and texture.
Makes 8 servings.
Nutritional Information Per Serving (1/8 of recipe; 1 1/4 cups): Calories: 275; Total Fat: 14g; Saturated Fat: 3g; Cholesterol: 45mg; Total Carbs: 17g; Fiber: 3g; Protein: 20g; Sodium: 370mg.
Recipe and photograph courtesy of "The Heart-Smart Diabetes Kitchen: Fresh, Fast and Flavorful Recipes Made with Canola Oil" from the American Diabetes Association and CanolaInfo.