Lemon-Tarragon Pork Chops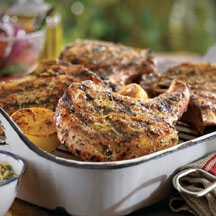 With very little effort you can turn plain pork chops into a company-special entrée by using a delicious, easy rub. Serve with grilled asparagus and wild rice pilaf.
Recipe Ingredients:
4 pork chops
4 teaspoons olive oil
Rub:
1 tablespoon dried tarragon, crushed
1 1/2 teaspoons lemon zest, (zest from 1 medium lemon)
1 1/2 teaspoons garlic pepper blend seasoning
1 1/2 teaspoons onion powder
1/2 teaspoon kosher or sea salt
Cooking Directions:
Preheat grill to medium high (400°F | 205°C).
Meanwhile, place pork on platter; drizzle with 1/2 teaspoon olive oil on each side. Brush to coat; set aside.
In small bowl, mix together tarragon, lemon zest, garlic pepper blend, onion powder and salt. Rub about 1 1/2 teaspoons of mixture over both sides of pork chops.
Place pork chops on preheated grill. Close lid; cook for 4 to 6 minutes* per side (depending on thickness of chop) or until internal temperature reaches 160°F (70°C).
Serve and garnish with slice of lemon, if desired.
Makes 4 servings.
*Grill/cook 1/2-inch pork chops for about 4 to 5 minutes per side. Grill/cook 3/4-inch pork chops for 5 to 6 minutes per side. Grill/cook 1-inch pork chops for 6 to 7 minutes per side.
Nutritional Information Per Serving (1/4 of recipe): Calories: 190 calories; Protein: 16 grams; Fat: 13 grams; Sodium: 280 milligrams; Cholesterol: 55 milligrams; Saturated Fat: 4 grams; Carbohydrates: 1 grams; Fiber: 0 grams.
Recipe and photograph provided courtesy of National Pork Board.