Marinated Double-Thick Pork Chops
with Sweet Habanero Glaze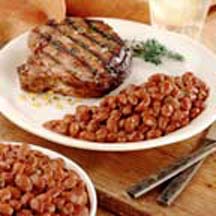 Recipe created for Bush's® Grillin' Beans® by Chef Adam Perry Lang, best-selling author of "The World's Most Flavorful Recipes - Now Made Foolproof" (Harper Studio, ©2010) and owner of Daisy May's BBQ USA in NYC.
Recipe Ingredients:
Marinade:
2 tablespoons sweet onion
2 tablespoons garlic
2 tablespoons chopped red bell pepper
2 tablespoons chopped celery
2 teaspoons celery salt
1 tablespoon garlic salt
2 tablespoons white sugar
1/2 cup white wine vinegar
1 cup olive oil
1 teaspoon crushed red pepper flakes
1 tablespoon fresh thyme picked off stems
Chops:
6 to 8 pork chops
Spice Mix:
1 tablespoon Old Bay® seasoning
1 tablespoon chipotle chili powder
Freshly ground black pepper
Habanero Glaze:
1 to 2 habanero chiles (substitute serrano or jalapeño chiles for less heat), seeds removed and chopped
1/2 cup granulatd (white) sugar
1/4 cup lime juice
1 cup water
1/2 cup very ripe, finely diced mango
3 tablespoons finely chopped Italian flat-leaf parsley
2 tablespoons scallions, finely chopped
2 tablespoons chives, finely chopped
1 (21-ounce) can BUSH'S® Texas Ranchero Grillin' Beans® for accompaniment
Cooking Directions:
For Marinade: Combine all the marinade ingredients in a large bowl or resealable plastic bag. Mix and crush the ingredients with your hand, directly or through the bag, squeezing them to release the maximum flavor.
Put the chops in the marinade and let them absorb the flavors for 3 to 24 hours in the refrigerator.
Preheat the grill to medium-high heat.
Drain the chops and dry with paper towels.
For Spice Mix: Combine Old Bay® seasoning, chipotle chili powder and freshly ground black pepper and coat the chops.
For Habanero Glaze: Combine all the habanero glaze ingredients in a large bowl. Brush the chops with the glaze while reserving some for the garnish.
Put the chops on the well-oiled grill and cook until medium-well.
Press the chops as needed throughout the cooking process. (An optional technique is to use a foil-wrapped brick or heavy frying pan to maintain grill contact.) Baste during the last minutes and flip the meat as needed.
Continue to grill until the chops are nicely caramelized and charred on both sides, approximately 8 to 10 minutes per side total, or until the internal temperature reaches 160°F (70°C).
Garnish with chopped scallions and chives and drizzle with remaining glaze.
Serve with BUSH'S® Texas Ranchero Grillin' Beans®.
Makes 6 to 8 servings.
Recipe and photograph provided courtesy of Bush's Beans, through ECES, Inc., Electronic Color Editorial Services.