Mixed Mushrooms and Pork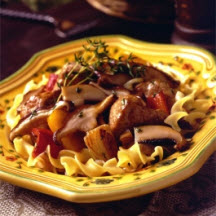 Recipe courtesy of the Mushroom Council.
Recipe Ingredients:
1 pound boneless pork, cut into 2-inch pieces
1 pound portabella and/or shiitake mushrooms
3 tablespoon vegetable oil - divided use
2 red and/or yellow peppers, cut into 2-inch pieces
1 medium onion, cut into 1-inch pieces
2 teaspoons cornstarch
1/2 teaspoon dried thyme leaves
3/4 cup water
2 tablespoons dry white wine
Hot cooked noodles for accompaniment
Cooking Directions:
Trim and cut portabellas in large pieces; remove shiitake stems and cut caps in halves.
In a large nonstick skillet, heat 2 tablespoon of oil until hot. Add pork pieces; cook, stirring frequently, 8 to 9 minutes; remove.
To skillet, add 1 tablespoon vegetable oil, peppers, onion and prepared mushrooms; cover and simmer until vegetables are tender, about 10 minutes.
In a small bowl, combine cornstarch, thyme, salt and pepper with 3/4 cup water; stir into mushroom mixture along with the wine. Cook uncovered, stirring often, until sauce is clear and slightly thickened, 3 to 4 minutes. Return pork to skillet; heat only until hot. If desired, sprinkle with chopped parsley and serve over noodles.
Makes 4 servings.
Recipe and photograph courtesy of the Mushroom Council.