New Orleans-Style Red Beans and Rice
with Fresh Ham Hocks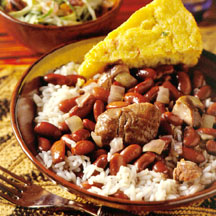 This long simmering dish lets you out of the kitchen while it cooks. Enjoy with Hot Skillet Cornbread, coleslaw and Cream of Coconut Cake.
Recipe Ingredients:
3 to 4 pounds pork back ribs
1/4 cup chili powder
1 tablespoon onion powder
1 tablespoon ground cumin
2 teaspoon salt
1 1/2 teaspoons oregano
1 teaspoon garlic powder
1 teaspoon cayenne (ground red pepper)
Cooking Directions:
Sort and wash beans; place in large Dutch oven. Cover with water 2 inches above beans. Bring beans to a boil and cook for 2 minutes. Remove from heat, cover and let stand for 1 hour. Drain beans and set aside.
Sprinkle 1/2 teaspoon seasoned salt over sides of ham hocks. Heat vegetable oil in Dutch oven; brown ham hocks 3 minutes on each side. Add reserved beans, remaining seasoned salt, onions, thyme, bay leaf and pepper and stir to blend. Bring mixture to a boil. Reduce heat and cover; simmer 2 to 3 hours or until beans are tender.
Remove bay leaf and serve beans over rice.
Makes 6 servings.
Recipe and photograph provided courtesy of National Pork Board.