Piña Colada Pork Chops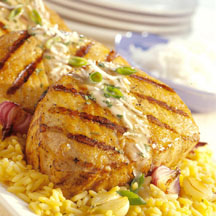 Very little preparation goes into making these grilled tropical chops, first marinated in fresh lime juice, and served with a simple sauce of coconut milk, lime juice, green onions, fresh cilantro and a pinch of cayenne pepper. Serve with jasmine rice, grilled asparagus and fresh pineapple wedges.
Recipe Ingredients:
4 boneless top loin pork chops, 1 to 1 1/2-pounds
3 limes - divided use
Kosher or sea salt and freshly ground black pepper to taste
1/2 cup canned coconut milk*
Pinch of ground cayenne pepper
1 tablespoon green onion, finely sliced, plus extra for garnish
1 teaspoon chopped fresh cilantro, plus extra for garnish
Hot, cooked jasmine or other long grain rice for accompanment
Cooking Directions:
Marinate the pork in juice of one lime while you prepare a medium-hot fire, about 20 minutes.
Season chops with salt and pepper, as desired.
Grill chops over indirect heat, about 4 to 5 minutes per side.
Meanwhile, slice second lime into 4 wedges and set aside.
Warm coconut milk in a small saucepan over low heat; season with salt, pepper and a pinch of cayenne. Remove from heat and stir in the juice of third lime, the sliced green onion and cilantro.
To serve, spoon warm sauce over chops, garnish with extra green onion and chopped cilantro (if desired), and provide a wedge of lime for sprinkling over the top of each chop.
Serve with rice.
Makes 4 servings.
*If coconut milk is unavailable, substitute 1/2 cup half-and-half mixed with 1/4 teaspoon imitation coconut extract.
Tip: If more sauce is desired, double the ingredients for it.
Adapted recipe and photograph provided courtesy of National Pork Board.