Pork Chops Sate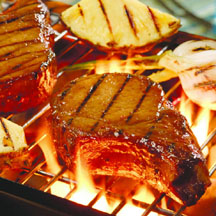 Pork loin chops marinated in an easy marinade using sesame ginger salad dressing with pineapple juice, peanut butter and crushed red pepper. Serve these spicy hot chops with grilled pineapple slices and rice flecked with green onion to complete the meal.
Recipe Ingredients:
4 bone-in pork loin chops, 1 1/2-inch thick (12 to 14-ounces)
1 1/2 cups Asian sesame with ginger salad dressing
3/4 cup pineapple juice
1 1/2 teaspoons crushed red pepper (or as desired)
1/4 cup creamy peanut butter
2 tablespoons chopped peanuts for garnish
Cooking Directions:
Place pork in large, resealable plastic bag. Mix together salad dressing, pineapple juice and red pepper in small bowl. Set aside 1/2 cup of the dressing marinade. Pour remaining marinade over pork; close bag to seal. Turn bag to evenly coat pork with marinade. Refrigerate for 2 to 6 hours, turning bag occasionally.
Prepare a medium-hot fire in grill.
Heat, stirring with wire whisk, reserved marinade and peanut butter just until combined; remove from heat.
Remove pork from marinade; discard marinade in bag.
Grill chops, uncovered, over direct heat for 12 to 16 minutes or until internal temperature of pork reaches 160°F (70°C), turning chops over and brushing with peanut butter mixture halfway during grilling.
Transfer chops to cutting board. Loosely cover with foil; let rest for 5 minutes.
To serve, brush chops with remaining peanut butter mixture; sprinkle with peanuts.
Makes 4 servings.
Recipe and photograph provided courtesy of National Pork Board.