Pork Chops with Sweet Potatoes and Apples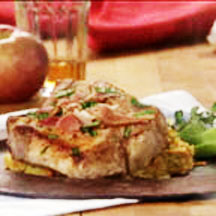 Pork chops and applesauce—been there, done that? Then try these chops served with sweet potatoes and apples for a twist!
Recipe Ingredients:
2 medium apples
1/4 of a medium onion
3 medium sweet potatoes
1 apple
4 slices of bacon
4 pork chops
1 tablespoon lemon juice
1 tablespoon bourbon, optional
1/4 teaspoon salt
1/8 teaspoon ground black pepper
1/8 teaspoon nutmeg
1/4 teaspoon chervil
Fresh parsley
Cooking Directions:
Preheat the oven to 350°F (175°C).
In a food processor with a metal blade add onion.
Switch to the shredder and shred sweet potatoes and apple.
Cook 4 slices of bacon over high heat until crisp and drain all but 1 tablespoon of the fat cut the bacon into pieces and set aside for now.
Next rub 4 pork chops with lemon juice and brown them in the bacon fat.
Remove them from the pan and set aside.
Drain all the fat except for one tablespoon and deglaze with bourbon if you like.
Next add the sweet potato, apples and onions. Cook for 5 minutes.
Now add salt, pepper, nutmeg and chervil and mix well.
Place the vegetable mixture in a greased oven pan and then arrange the pork chops on top of the mixture.
Sprinkle with the pieces of bacon and chopped parsley.
Cover with foil and bake at 350°F (175°C) for 50 to 60 minutes until pork chops are tender.
Makes 4 servings.
Recipe provided courtesy of HolidayKitchen.tv. Photograph property of CooksRecipes.com.