Pork Tenderloin Medallions with Raspberry Sauce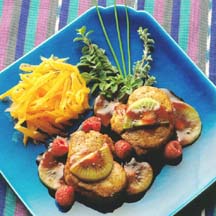 This elegant but quick spring entrée fairly shouts with flavors—fresh and preserved fruit, friendly garlic, pungent horseradish and deep soy sauce.
Recipe Ingredients:
1 whole pork tenderloin, about 1 pound, cut into 8 crosswise pieces
Cayenne pepper, to taste
2 teaspoons butter
2 kiwifruit, peeled and thinly sliced
5 tablespoons red raspberry preserves
2 tablespoons red wine vinegar
1 tablespoon ketchup
1/2 teaspoon prepared horseradish
1/2 teaspoon soy sauce
1 garlic clove, minced
1/2 pint fresh raspberries
Cooking Directions:
With heel of hand, gently press each medallion to 1-inch thickness; lightly sprinkle both sides with cayenne.
Heat butter in nonstick skillet over medium-high heat; add pork medallions and cook 3 to 4 minutes on each side.
Meanwhile, in small saucepan stir together preserves, vinegar, catsup, horseradish, soy sauce and garlic; simmer over low heat for 2 minutes, stirring occasionally; keep warm.
Place medallions on serving plate; spoon sauce over; top each medallion with some sliced kiwi. Garnish serving plate with remaining kiwi slices and fresh raspberries.
Makes 4 servings.
Recipe and photograph provided courtesy of National Pork Board.