Port-Glazed Pork Roast with Apple-Horseradish Sauce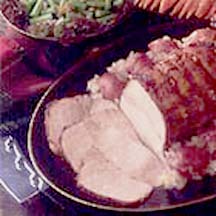 So many autumn flavors play a role in this elegant pork roast—make it the centerpiece of a harvest meal. Serve with roasted potato wedges and buttered Brussels sprouts. Offer mugs of hot buttered rum or warm apple cider.
Recipe Ingredients:
1 (4-pound) boneless pork loin roast
1 tablespoon Dijon mustard
1/2 teaspoon salt
1/2 teaspoon thyme
1/4 teaspoon ground black pepper
1/2 cup tawny Port
1/4 cup soy sauce
3 garlic cloves, crushed
2 teaspoons ground ginger
1 (10-ounce) jar red currant jelly
2 tablespoons tawny Port
1 tablespoon soy sauce
3 tart apples, peeled and cored, cut into wedges
1 cup water
2 tablespoons lemon juice
1/2 cup granulated sugar
1/4 teaspoon ground cinnamon
1 tablespoon red cinnamon candies
3 tablespoons prepared horseradish
Cooking Directions:
Rub meat with mustard, salt, thyme and pepper. Place in large self-sealing bag; add 1/2 cup Port, 1/4 cup soy sauce, garlic and ginger. Seal bag and refrigerate overnight.
Preheat oven to 350°F (175°C)
Remove pork from marinade; place in shallow roasting pan and roast, basting frequently with reserved marinade, until internal temperature reaches 150°F (65°C), about 45 minutes to 1 hour.
Meanwhile in a small saucepan, stir together jelly, 2 tablespoons Port and 1 tablespoon soy sauce over medium heat. Pour warm jelly mixture over roast and continue roasting until internal temperature reaches 155 to 160°F (approxmately 65°C to 70°C), about 15 minutes more. Remove from oven and let rest 10 minutes before slicing to serve with Apple-Horseradish sauce.
For Apple-Horseradish Sauce: heat apple wedges, water and lemon juice in medium-size saucepan until boiling. Stir in the sugar, cinnamon and red cinnamon candies. Cook, stirring constantly, until sugar and candies dissolve. Remove from heat, cover and refrigerate. Stir in 3 tablespoons horseradish before serving. Serve cold or at room temperature.
Makes 12 servings.
Nutritional Information Per Serving (1/12 of recipe): Calories 360 calories Protein 32 grams Fat 10 grams Sodium 590 milligrams Cholesterol 90 milligrams Saturated Fat 4 grams Carbohydrates 32 grams.
Recipe and photograph provided courtesy of National Pork Board.