Prosciutto and Mushroom-Stuffed Pork Roast
with Balsamic Glaze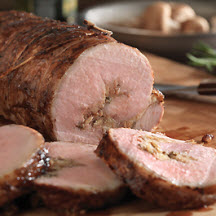 These delicious stuffed pork slices would also be fabulous served over soft polenta made with a little grated Parmesan cheese and cracked black pepper. Add color to your plate with a side of steamed green beans tossed with butter and a squeeze of lemon.
Recipe Ingredients:
3 pounds New York (top loin) pork roast
2 tablespoons butter, or olive oil
1 cup cremini mushrooms, or button mushrooms, chopped
1/4 cup finely chopped onion, or shallots
1 1/2 teaspoons snipped fresh thyme or 1 teaspoon snipped fresh rosemary
1 cup plain croutons, coarsely crushed
3 ounces prosciutto, chopped
1/3 cup freshly grated Parmesan cheese
2/3 cup balsamic vinegar, plus 1 tablespoon - divided use
Salt and ground black pepper
Cooking Directions:
For Stuffing: In a large skillet melt butter. Add mushrooms, onion, and thyme; cook until onion is tender. Remove from heat; stir in crushed croutons, prosciutto, cheese, and 1 tablespoon balsamic vinegar. Season with pepper. Meanwhile, in a small saucepan, bring remaining balsamic vinegar to boiling. Boil, uncovered, until reduced by half, about 6 minutes; remove from heat.
Prepare medium-hot banked fire in covered grill or preheat gas to medium-high. Lightly oil grill grate.
For Pork Roast: To butterfly the pork loin, place fat-side down. Make a single lengthwise cut down the center of the pork, cutting to within 1/2-inch of the bottom side. Spread open. Make another lengthwise slit to the right of the first cut and a third slit to the left. Cover pork with clear plastic wrap. Pound with a meat mallet to even thickness, about 3/4-inch Remove plastic wrap.
Spread stuffing onto pork, leaving a 3/4-inch border. Starting from a long side, roll the pork and stuffing jelly-roll style. Tightly and evenly retie meat with butcher's twine or cotton kitchen string at 2-inch intervals. Sprinkle with salt and pepper.
Grill pork, fat-side up, over indirect heat, away from the fire until internal temperature on a thermometer reads between 145°F (62.7°C) for medium rare, and 160°F (71.1°C) for medium. Start checking the temperature at 45 to 50 minutes. Brush with reduced balsamic twice during last 10 minutes of grilling. Remove pork from heat; let rest about 10 minutes.
To Serve: Remove twine and cut pork into slices, about 3/4-inch thick.
Makes 10 servings.
To Roast in Oven: Prepare and stuffed pork loin as directed. Preheat oven to 325°F (160°C). Place stuffed roast, fat-side up, on a rack in a shallow roasting pan. Roast, uncovered, until internal temperature on a thermometer reads between 145°F (62.7°C) for medium rare, and 160°F (71.1°C) for medium, about 50 to 60 minutes, brushing with reduced balsamic twice during last 10 minutes of roasting. Let rest about 10 minutes and slice as directed above.
Tips:
If oven-roasting the loin, consider adding chunks of sweet potatoes, carrots, potatoes, and/or parsnips and onion wedges to the roasting pan with the roast.
You do not need to trim the fat from the pork roast; it will add flavor and keep the roast moist. When inserting the thermometer, make sure it is inserted in the pork and not the stuffing.
Nutritional Information Per Serving (1/10 of recipe): Calories: 330; Total Fat: 18g; Saturated Fat: 6g; Cholesterol: 105mg; Total Carbs: 6g; Fiber: 0g; Protein: 34g; Sodium: 430mg.
Recipe and photograph provided courtesy of National Pork Board.