Roast Leg of Pork with Pineapple Sauce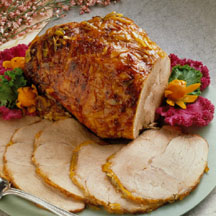 Fresh pork leg is a very lean cut, making it perfect for roasting. Serve with the pineapple sauce, buttered green peas and pearl onions, scalloped potatoes, coleslaw and warm dinner rolls. Any leftovers are great sliced for sandwiches.
Recipe Ingredients:
1 (3 to 4 pound) boneless fresh pork leg
1/2 teaspoon garlic salt
1 (15 1/4-ounce) can crushed pineapple, drained, reserve fruit and juice separately
2 tablespoons frozen orange juice concentrate
4 teaspoons soy sauce
2 teaspoons cornstarch
1 teaspoon brown sugar
1 teaspoon grated fresh ginger
1/8 teaspoon curry powder
Cooking Directions:
Preheat oven to 375°F (190°C).
Place pork in shallow roasting pan. Roast for 1 1/2 to 2 hours, until internal temperature, read with a meat thermometer, reads 150°F to 155°F (approximately 65°C).
Meanwhile, for sauce, in a medium saucepan put pineapple juice, orange juice concentrate, soy sauce, cornstarch, brown sugar, curry powder and ginger. Whisk to blend thoroughly. Bring to boiling, stirring; reduce heat and simmer 3 to 5 minutes or until thickened. Remove 1/4 cup of sauce for basting roast during last 30 minutes. Add pineapple to remaining sauce, cook and stir 3 to 4 minutes more, set aside to serve with roast.
Let roast rest 10 minutes before slicing.
Makes 6 to 8 servings.
Recipe and photograph provided courtesy of National Pork Board.