Roasted Pork Loin and Root Vegetables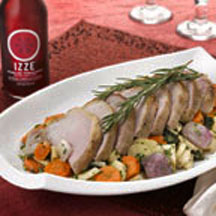 Recipe courtesy of Lachlan Mackinnon Patterson, chef and owner of Frasca Food and Wine, Boulder, Colorado.
Recipe Ingredients:
3 pounds center-cut pork loin, trimmed and tied with butcher twine
2 large carrots, peeled and cut into 1/2-inch pieces
8 large shallots, peeled and cut in half
2 parsnips, peeled and cut into 1/2-inch pieces
1 celery root peeled, and cut into 1/2-inch pieces
2 Yukon gold potatoes, peeled and cut into 1/2-inch pieces
1/2 pound spinach
2 large rosemary sprigs
1 teaspoon finely chopped rosemary
1 teaspoon finely chopped chives
1 teaspoon minced shallots
3 tablespoons grape seed oil
Sea salt and cracked pepper
1 lemon
Cooking Directions:
Preheat oven to 325°F (160°C) and let pork stand for 30 minutes outside the refrigerator.
Heat a large saute pan over high heat and add grape seed oil. Season pork with sea salt and pepper and saute each side of the pork until golden brown. This may take 10 to 15 minutes. Remove pork and add carrots, shallots cut in half, parsnips, celery root, Yukon potatoes and rosemary sprigs. Place the pork on top of the vegetables and place in the oven for approximately 1 to 1 1/4 hours or until the pork temperature is 120°F (50°C) in the center.
Pull pan out of the oven and allow the pork to rest for 15 minutes before slicing. Stir raw spinach into the hot vegetables. Season the vegetables with sea salt and pepper and drain any excess fat. Add chopped herbs and minced shallots to the vegetables and pour onto a platter. Slice pork loin and lay over top. Finish the dish with a little squeeze of fresh lemon juice and serve.
Makes 6 servings.
Recipe and photograph provided through ARAcontent.