Sante Fe Chops with Firecracker Salsa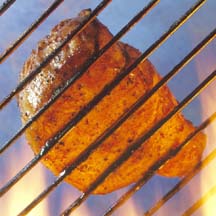 Southwest-seasoned chops arrive from the grill to be dressed with a sweet-hot pineapple-jalapeño-cucumber salsa. Hot cornbread with honey-butter makes a great accompaniment.
Recipe Ingredients:
6 boneless pork center loin chops, 1 1/2-inch thick
1 tablespoon chili powder
1 tablespoon ground cumin
1 tablespoon ground black pepper
1/2 teaspoon salt
1 jalapeño chile,seeded and minced
1 (20-ounce) can pineapple tidbits, drained
1 medium cucumber, diced
1 tablespoon fresh lime juice
1 tablespoon brown sugar
Pinch of salt
Cooking Directions:
In small bowl mix together chili powder, cumin, pepper and salt. Rub evenly onto both sides of chops.
Prepare a medium-hot fire in a kettle-style grill.
Grill chops directly over fire for a total of 12 to 15 minutes, turning once. Serve with Firecracker Salsa.
For Firecracker Salsa: In small bowl stir together pineapple tidbits, diced cucumber, lime juice, brown sugar, salt and jalapeno chile (*Wear rubber gloves when handling hot chile). Cover and refrigerate 4 to 24 hours to allow flavors to blend.
Makes 6 servings.
Recipe and photograph provided courtesy of National Pork Board.