Southwestern Stuffed Pork with Spicy Cranberry Compote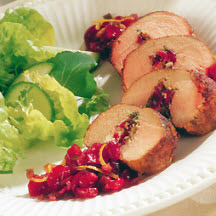 Recipe courtesy of the Cranberry Marketing Committee.
Recipe Ingredients:
Southwestern Rub:
2 teaspoons chili powder
1 teaspoon cumin, ground
1 teaspoon oregano, ground
1/2 teaspoon garlic powder
1/2 teaspoon onion powder
1/2 teaspoon ground black pepper
1/4 teaspoon ground cinnamon
Cotija Stuffed Pork:
1 to 1 1/2 pounds pork tenderloin
1/3 cup dried cranberries, chopped
1/4 cup Cotija cheese, crumbled*
1/4 cup hazelnuts, toasted, skin removed, chopped
1/4 cup fresh cilantro, chopped
Jalapeño Cranberry Compote:
2 cups dried cranberries
1 cup orange juice
1/2 cup orange flavored liqueur**
1 teaspoon grated orange peel
1/4 cup chopped shallots
1 1/2 tablespoons diced jalapeño pepper
1/2 teaspoon ground cinnamon
1/4 teaspoon ground nutmeg
Cooking Directions:
For Southwestern Rub: Place all rub ingredients in small bowl and stir until blended. Rub evenly over pork.
For Cotija Stuffed Pork: Preheat oven to 350°F (175°C).
Cut pork down the center lengthwise 3/4 of the way through the meat. Do not cut completely through side.
Sprinkle inside of meat with cranberries, Cotija cheese, hazelnuts and cilantro.
Tie pork roll together using 3 to 4 pieces cotton twine; cut off loose ends. Place seam-side down in greased 13x9x2-inch pan.
Bake at 350°F (175°C) for 45 to 60 minutes until pork reaches internal temperature of 160°F (71.1°C).
Slice vertically into 1/2-inch slices. Serve sliced pork with warm compote.
For Jalapeño Cranberry Compote: Place cranberries, orange juice, orange liqueur and orange peel in medium bowl. Cover and soak at least 8 hours.
Pour into medium saucepan. Add shallots, jalapeño pepper, cinnamon and nutmeg. Stir until blended.
Bring to boil uncovered, decrease heat and simmer for 10 minutes, stirring occasionally, until tender and most of liquid is absorbed.
Makes 4 servings.
* May substitute shredded Monterey Jack cheese for the Cotija, if desired.
** May substitute orange juice for the orange flavored liqueur, if desired.
Recipe and photograph courtesy of Cranberry Marketing Committee.