Spicy Latin Back Ribs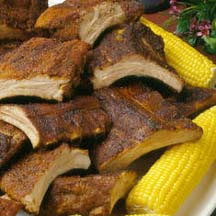 Give ribs an extra kick of flavor with this spicy rub. If adding sauce, wait until the last thirty minutes or let guests dip in sauce at the table.
Recipe Ingredients:
6 to 8 slabs pork baby back ribs (about 12 pounds total)
Rub:
1/2 cup ground cumin
1/2 cup chili powder
4 tablespoons ground coriander
2 tablespoons cayenne
4 tablespoons ground black pepper
2 tablespoons ground cinnamon
2 tablespoons brown sugar, firmly packed
1 tablespoon kosher or sea salt
Cooking Directions:
In large jar with tight-fitting lid, place rub ingredients. Place lid on jar shake well until blended thoroughly.
Pat ribs dry with paper towels. Rub Spicy Latin Rub generously over all surfaces of ribs; cover and refrigerate up to 12 hours or cook immediately.
Place ribs, not overlapping, over indirect heat on grill (may need 2 to 3 kettle-style grills). Close grill hood and cook ribs NOT directly over coals for 1 1/2 hours, until ribs are very tender.*
Remove ribs from grill, wrap securely in heavy aluminum foil. Place foil-wrapped ribs in brown paper bags, close bags and let ribs rest for up to 1 hour.
Unwrap ribs, cut into serving portions and serve with barbecue sauce for dipping.
Makes 12 to 16 servings.
*Alternatively, roast ribs on rack in shallow pan in 350°F (175°C) oven for 1 1/2 hours.
Recipe and photograph provided courtesy of National Pork Board.