Spicy Spareribs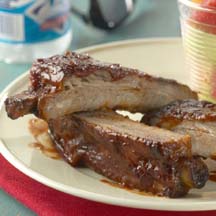 Recipe courtesy of Ray Lampe author of The NFL Gameday Cookbook.
Recipe Ingredients:
2 slabs pork spareribs, 4 pounds each
Barbecue dry rub seasoning, your favorite, as needed (see All-Purpose Dry Rub)
1/2 cup apple juice - divided use
2 cups barbecue sauce, your favorite
1/2 cup hot pepper sauce, or to your taste
Cooking Directions:
Prepare the smoker or grill for cooking over indirect low (275°F / 135°C) heat, using 2 parts cherry wood and 1 park hickory wood for flavor.
Peel the membrane off the back of the ribs. Season the ribs liberally with the rub. Place the ribs in the cooker, meaty side up. Cook for about 3 hours, or until the ribs have a nice brown color and are beginning to get soft. Remove the ribs from the cooker. Lay out a big double-thick layer of heavy-duty aluminum foil for each slab. Lay the ribs on the foil meaty side up. As you begin to close up the foil into a package around the ribs, add 1/4 cup of the apple juice to each packet. Now wrap the ribs up tightly, being careful not to puncture the foil with the rib bones. Put the ribs back in the cooker for another 1 1/2 hours, or until they reach your desired degrees of tenderness.
Take the ribs out of the foil, and put them back on the cooker. Mix the barbecue sauce with the hot sauce. Brush both sides of the ribs with some of the barbecue sauce, and cook for another 20 minutes. Remove the ribs to a platter and let them rest for 5 minutes. Lay each slab on a cutting board, meaty-side down, and cut through the slab to separate every rib. Transfer them to a platter and serve with the remaining sauce on the side.
Makes 6 servings.
Recipe and photograph provided courtesy of National Pork Board.