Spicy Western-Style Spareribs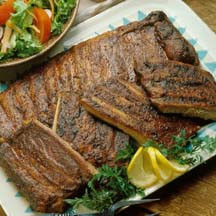 This pungent barbecue sauce, spiked with dry mustard and chili powder, is a perfect mate with these spareribs—it's also great slathered on chops, sausage, burgers or chicken on the grill. Serve these spareribs with buttered corn on the cob, baked corn sticks, and lots of napkins for mopping up.
Recipe Ingredients:
3 whole slabs spareribs, about 5 to 6 pounds
1 cup water
1/3 cup butter
2 tablespoons fresh lemon juice
1/4 cup dry mustard
1/4 cup chili powder
1 tablespoon granulated sugar
1 tablespoon paprika
2 teaspoons salt
1 teaspoon onion powder
1 teaspoon garlic powder
1/4 teaspoon cayenne pepper
Cooking Directions:
Preheat oven to 400°F (205°C).
Place spareribs on shallow baking pans; cover with foil and bake for 1 1/2 hours.
Meanwhile combine water, butter, lemon juice, dry mustard, chili powder, sugar, paprika, salt, onion powder, garlic powder and cayenne in medium saucepan. Bring to a boil, stirring. Reduce heat and simmer for 30 minutes, stirring occasionally. Set aside.
Prepare medium-hot fire in grill.
Remove ribs from oven, uncover and brush liberally with sauce.
Grill ribs directly over fire, brushing with sauce to glaze well, for about 20 minutes total.
Serve ribs with additional sauce.
Makes 6 servings.
Recipe and photograph provided courtesy of National Pork Board.