Stir-Fried Pork Burritos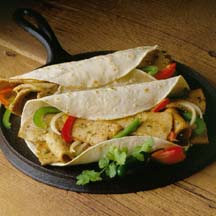 Simply seasoned strips of pork are stir-fried quickly with onions and green pepper to be enclosed in a warm tortilla. Go ahead and try to eat just one. Serve with sliced oranges.
Recipe Ingredients:
1 pound lean boneless pork loin, cut into 1/8-inch strips
2 garlic cloves, crushed
1 teaspoon oregano
1 teaspoon ground cumin
1 teaspoon seasoned salt
2 tablespoons orange juice
2 tablespoons vinegar
1/2 teaspoon hot pepper sauce
1 tablespoon vegetable oil
1 medium onion, peeled and sliced, separated into rings
1 green bell pepper, seeded and sliced
4 large flour tortillas
Cooking Directions:
Place pork in shallow bowl. In small bowl stir together garlic, oregano, cumin, seasoned salt, orange juice, vinegar and hot pepper sauce; pour over pork and toss gently to mix. Let pork marinate briefly, 10 minutes.
In large heavy skillet heat oil over high heat. Remove pork from marinade, discarding any remaining marinade. Stir-fry pork, onion and green pepper until pork is no longer pink, about 3 to 5 minutes.
Roll up equal portions of pork mixture in flour tortillas and serve to eat out-of-hand.
Makes 4 servings.
Recipe and photograph provided courtesy of National Pork Board.