Summertime Orecchiette Gratin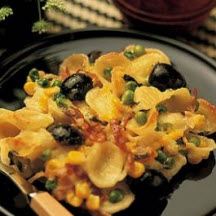 Recipe courtesy of California Ripe Olives.
Recipe Ingredients:
1 1/4 cups heavy cream
1 1/4 cups chicken stock
3 tablespoons white wine
2 teaspoons minced garlic
1/2 teaspoon kosher salt
1/4 teaspoon ground black pepper
1 3/4 cups corn kernels
1 3/4 cups fresh or frozen peas
1 1/4 cups ripe olives, halved
1/4 pound ham, sliced into 1/8x1 1/2-inch strips
5 1/2 cups cooked orecchiette pasta
1/2 cup shredded basil
3/4 cup grated asiago cheese
Cooking Directions:
Combine heavy cream, chicken stock, white wine, garlic, season with salt and pepper in a medium sized saucepan. Bring to a boil, then turn down to low and simmer for 5 minutes.
Add corn, peas, ripe olives and ham to cream sauce and continue cooking over low heat for 2 to 3 more minutes.
Place orecchiette in a large mixing bowl and toss with cream sauce and basil until evenly combined. Pour into a lightly greased 9-inch by 13-inchch (3 quart) baking dish and top with cheese.
Bake for 20 minutes in a 400°F (205°C) oven until lightly golden on top.
Makes 6 servings.
Recipe and photograph courtesy of California Ripe Olives.