Thai-Style Pork Chops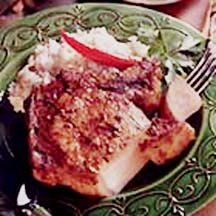 Fish sauce (Naam Pla) is to Thai cooking what soy sauce is to Chinese and Japanese cooking. It can be found in most grocery stores or supermarkets with the Asian foods. Serve with rice and marinated cucumber salad.
Recipe Ingredients:
4 boneless pork chops, 1-inch thick
1/4 cup soy sauce
1/4 cup water
1 clove garlic, minced
1 teaspoon ground black pepper
1/2 teaspoon ground ginger
Dipping Sauce:
1/4 cup water
2 cloves garlic
2 fresh green chiles
2 tablespoons vegetable oil
2 tablespoons lime or lemon juice
2 tablespoons soy sauce
1 teaspoon Thai fish sauce (naam pla)
Cooking Directions:
For marinade, in a small bowl combine 1/4 cup soy sauce, 1/4 cup water, 1 clove minced garlic, pepper and ginger.
Place pork chops in a 1-gallon self-sealing bag, pour marinade over, seal bag and marinate in refrigerator for 4 hours or overnight. Drain chops, discarding marinade.
Place chops on a kettle-style grill directly over medium-hot coals. Lower grill hood and grill chops for 4 to 6 minutes, turn chops and grill for 4 to 6 minutes more until chops are just done.
Meanwhile, for Dipping Sauce, blend all remaining ingredients in blender container until almost smooth. Serve with chops.
Makes 4 servings.
Recipe and photograph provided courtesy of National Pork Board.