Tropical Island Chops with Pineapple-Cucumber Salsa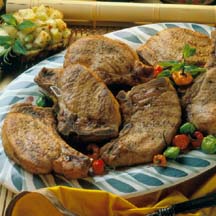 A Latin-inspired rub on the surface of these grilled chops is the perfect foil for a cool salsa of cucumber, mint and pineapple. Serve with green beans garnished with flaked coconut and toasted coriander seed, and hot rice.
Recipe Ingredients:
Chops:
6 bone-in pork chops, 1-inch thick
2 tablespoon brown sugar, packed
1 tablespoon grated lime zest
1 tablespoon dried thyme
1 garlic clove, minced
1 teaspoon dry mustard
For Pineapple-Cucumber Salsa:
1 (20-ounce) can pineapple tidbits, drained
2 medium cucumbers, peeled, seeded and chopped
2 tablespoons fresh mint
1/2 jalapeño chile, finely chopped*
1 tablespoon brown sugar, packed
1 tablespoon grated gingerroot
1 tablespoon fresh lime juice
Cooking Directions:
For Chops: Mix together all ingredients except chops; spread mixture evenly on all surfaces of chops, cover and let rest at room temperature one hour or up to 4 hours in the refrigerator. Prepare medium-hot fire in kettle-style grill. Grill chops for 6 minutes; turn and grill 5 minutes more.
For Pineapple-Cucumber Salsa: In large bowl, mix together pineapple tidbits, cucumber, mint, jalapeño chile, brown sugar, ginger root and lime juice. Cover and refrigerate 4 to 24 hours. Makes about 3 cups.
Makes 6 servings.
*Use rubber gloves when handling chile.
Recipe and photograph provided courtesy of National Pork Board.