Velveted Pork Tacos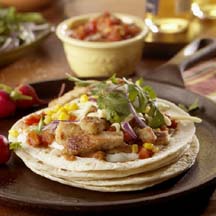 This mouthwatering taco recipe was created by Carolina Buia and Isabel Gonzalez, co-authors of "Latin Chic: Entertaining with Style and Sass". For a tapas version of this recipe, make the tacos smaller and seal with bamboo toothpicks.
Recipe Ingredients:
2 pounds boneless pork chops
1/3 cup cornstarch
1/3 cup olive oil
1 1/2 tablespoons ground cumin
1 (12-count) package flour tortillas, fajita or smaller size tortillas
1 bunch fresh cilantro
1 red onion
1 tablespoon white vinegar
1 tablespoon olive oil
1 (8-ounce) can corn niblets
1 (12-ounce) jar tomato salsa
1 (8-ounce) carton sour cream
1 (8-ounce) package shredded cheese
Salt, to taste
Pepper, to taste
Cooking Directions:
Cut pork chops into small, bite-sized pieces.
In a bowl, mix together corn starch, oil, cumin and 1 teaspoon black pepper until smooth, like a runny paste. Add pork to mixture and set aside to marinate for 30 minutes.
While pork marinates, wash cilantro and pluck whole leaves from stems, about 3/4 cup worth. Place whole cilantro leaves in a bowl. Thinly slice 1 red onion and add to cilantro, creating a salad. (You can adjust cilantro/red onion ratio to taste.) Add a dash of black pepper, one tablespoon of vinegar and one tablespoon of olive oil, toss to coat and set aside.
After pork has marinated, cook it in batches. Add a teaspoon of olive oil to a non-stick sauté pan and place over medium-high heat. When oil comes to temperature, cook half the pork pieces (without removing the marinade). Cook until the outside of the pork pieces are brown and a crust has formed and the inside is cooked through, about 5 minutes per side. If needed, add more oil to the pan, and then cook the second half of the marinated pork. Once finished, sprinkle cooked pork with salt to taste.
To assemble tacos, warm tortillas according to directions on the package. Take one tortilla and smear a teaspoon of sour cream down the middle. Top with 7 to 8 chunks of pork. Atop pork, place a spoonful of salsa, then top with cilantro red onion salad, a teaspoon of corn kernels and pinch of cheese. Fold over to enjoy!
Makes 6 (2-taco) servings.
Nutritional Information Per Serving (1/6 of recipe; 2 tacos): Calories: 950 calories; Protein: 44 grams; Fat: 57 grams; Sodium: 1110 milligrams; Cholesterol: 155 milligrams; Saturated Fat: 23 grams; Carbohydrates: 53 grams; Fiber: 3 grams.
Recipe and photograph provided courtesy of National Pork Board.