Well-Dressed Pork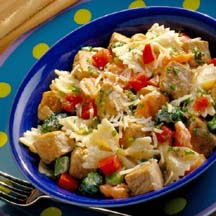 Have your teen chef cook up this 'dress-up' dish for the family. A white sauce recipe is included or use your favorite purchased brand. Serve with a fresh salad and garlic cheese bread.
Recipe Ingredients:
1 1/2 pounds boneless pork chops, cut in 3/4-inch cubes
1 cup chopped broccoli
2 cups sliced carrots
2 tablespoons vegetable oil
1/3 cup finely chopped green onions
2 cloves garlic, minced
1 1/2 cups white sauce (recipe included)
12 ounces bow tie pasta, cooked (about 5 1/2 cups)
1/3 cup freshly grated Parmesan cheese
2 large tomatoes, diced
2 tablespoons chopped fresh parsley
Salt and pepper to taste
White Sauce:
3 tablespoons butter
3 cups milk
3 tablespoons all-purpose flour
1/3 cup freshly grated Parmesan cheese
Cooking Directions:
Place broccoli and carrots in medium saucepan; add about one inch of water. Cook over medium-high heat until tender. Drain; set aside.
Heat oil in large skillet over medium-high heat until hot. Add pork, green onions, and garlic; cook 10 to 15 minutes, or until pork is no longer pink. Prepare White Sauce (see recipe below).
Combine pasta, pork mixture, vegetables and White Sauce in large casserole dish. Top with Parmesan cheese, tomatoes, parsley, salt and pepper. Toss and serve.
For White Sauce: Melt butter in small saucepan over medium heat. Blend flour and milk; add to saucepan. Cook, stirring constantly until mixture is smooth and creamy. Stir in cheese.
Makes 8 servings.
Nutritional Information Per Serving (1/8 of recipe): Calories 379 calories Protein 28 grams Fat 16 grams Sodium 308 milligrams Cholesterol 71 milligrams.
Recipe and photograph provided courtesy of National Pork Board.