Arugula Salad with Gorgonzola Red Grape Fritters
and Grilled Pear Conserve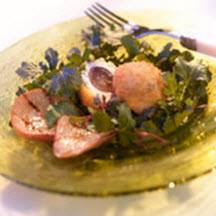 A complex arugula salad course with accompaniments—gorgonzola fritters with red grapes and grilled pear conserve. Recipe by Chef Seth Bixby Daugherty.
Recipe Ingredients:
Fritters:
6 ounces Wisconsin Gorgonzola cheese, softened
4 large red grapes
2 tablespoons all-purpose flour
1 large egg, beaten
1/2 cup dry bread crumbs
Pears:
2 pears
Vinaigrette:
2 shallots (about 1-inch each)
3 ounces champagne vinegar
1 teaspoon Dijon mustard
8 ounces extra virgin olive oil
1/4 teaspoon salt
1/8 teaspoon ground black pepper
Salad:
5 ounces arugula
Cooking Directions:
For Fritters: Shape Gorgonzola cheese into 4 balls. Press grape in middle of each ball. Wrap cheese around grapes. Freeze at least 1 hour.
For Pears: Core pears and cut into slices. Grill until slightly soft. Set aside.
For Vinaigrette: Place shallots, vinegar and mustard in blender container. Blend until smooth, scraping sides if necessary. Add olive oil, salt and pepper. Blend until thick.
For Salad: Clean and dry arugula. Toss with pears and vinaigrette. Season with salt and pepper.
Final Preparation: Coat frozen fritters with flour, then egg, then bread crumbs. Heat 4 inches of vegetable oil to 350°F (175°C). Fry fritters until golden brown, about 1 minute. (Grape should still be frozen and cheese warm.)
Place salad on 4 plates. Place hot fritter on each plate.
Makes 4 servings.
Recipe and photograph courtesy of Wisconsin Milk Marketing Board, Inc.