Beet and Apple Salad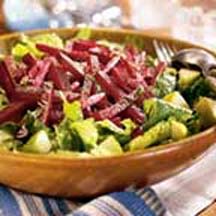 Apples make this salad crisp and crunchy, while beets color it richly red.
Recipe Ingredients:
6 medium beets (about 2 pounds) or two 16-ounce cans thin beet strips, rinsed and drained
1/3 cup salad oil
1/3 cup white wine vinegar
2 teaspoons shredded orange peel
1/4 cup orange juice
2 green onions, sliced (1/4 cup)
2 tablespoons snipped fresh mint or 2 teaspoons dried mint, crushed
2 teaspoons honey
4 cups torn romaine lettuce
2 medium tart green apples, coarsely chopped
Cooking Directions:
Place fresh whole beets in a large saucepan. Cook, covered, in boiling water for 40 to 50 minutes or until tender; drain. Cool slightly; slip off skins and cut into thin strips.
Meanwhile, for dressing, combine salad oil, white wine vinegar, orange peel, orange juice, green onion, mint, and honey in a screw-top jar. Cover and shake well.
Combine beet strips and half of the dressing in a mixing bowl. Cover and refrigerate the beet mixture and the remaining dressing for 2 to 24 hours.
To serve, combine torn romaine and chopped apple in a mixing bowl. Toss apple mixture with the remaining dressing. Using a slotted spoon, spoon beet mixture over apple mixture in bowl.
Makes 8 servings.
Nutritional Information Per Serving (1/8 of recipe): calories: 167, total fat: 9g, saturated fat: 1g, cholesterol: 0mg, sodium: 88mg, carbohydrate: 19g, fiber: 4g, protein: 3g, vitamin C: 31%.
Recipe and photograph provided by Better Homes and Gardens - BHG.com a member of the Home and Family Network for the best of cooking, gardening, decorating and more. © 2003 Meredith Corporation. All Rights Reserved.