Bitter Green Salad with Roasted Bread Cheese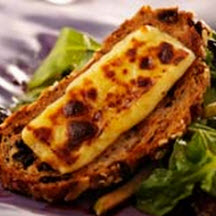 Wine-macerated dried black mission figs, julienned Anjou pears and arugula are tossed with a balsamic and shallot vinaigrette and served with slices of warm 'bread cheese' and crisp croutons made with a fruit and nut baguette. Recipe by Chef Kristine Subido.
Recipe Ingredients:
Croutons:
6 thin slices fruit and nut baguette, drizzled with olive oil and salt
Figs:
2 cups dried black mission figs, quartered
3 cups red wine
Dressing:
1 ounce (about 2 tablespoons) shallots, chopped
1/4 cup fig vin cotto vinegar or balsamic vinegar
1 cup canola-olive blend oil
Cheese:
12 ounces Wisconsin Carr Valley Bread Cheese or other Wisconsin Juustoleipa Cheese
2 ripe Anjou pears, seeded and julienne
8 ounces baby arugula or mixed salad greens
Cooking Directions:
For Croutons: Preheat oven to 325°F (160°C). Make the fruit and nut toast croutons by slicing the fruit and nut bread; drizzle with olive oil and sprinkle with salt. Bake until toasted, about 10 minutes. Set aside.
For Figs: Combine the black mission figs and red wine in a small sauce pot and simmer until the figs are soft, about 15 minutes. Turn the heat off and reserve the figs in the wine. Chill.
For Dressing: Combine the shallots and vinegar in a bowl. Slowly whisk in the olive oil until emulsified. Season to taste.
For Cheese: Preheat oven or broiler to 375°F (190°C). Cut the bread cheese in 3 equal pieces. Place the cheese on a cookie sheet and bake until soft; about 5 minutes. If using a microwave, cook for 30 seconds until soft.
Final Preparation: Drain the figs, reserving the wine. Combine the pears, figs and arugula. Toss with dressing; season to taste. Divide among six salad plates. Place crouton on each salad. Top each with 1/2 slice of the warm cheese. Season with pepper and drizzle some reserved red wine over salad. Serve immediately.
Makes 6 servings.
Recipe and photograph courtesy of Wisconsin Milk Marketing Board, Inc.