Black-Eyed Pea Salad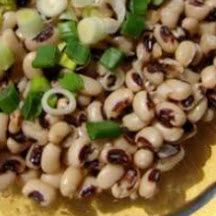 A marinated salad of black-eyed peas, chopped marinated artichoke hearts, green onions and bell pepper in Italian dressing. For best flavor, make this salad the day before so flavors can marry.
Recipe Ingredients:
1 pound dried black-eyed peas
3 chicken bouillon cubes
1/4 teaspoon ground white pepper
2 teaspoons onion salt
1 (4-ounce) jar marinated artichoke hearts
1/2 cup sliced green onions
1 green bell pepper, seeded and chopped
1 cup thinly sliced celery
1/2 cup sliced green onions
3/4 cup bottled Italian dressing
Salt and pepper to taste
Hot pepper sauce, to taste
Cooking Directions:
Soak black-eyed peas overnight (or at least 6 hours) with enough water to cover peas by two inches.
Next morning drain and rinse beans. Put rinsed beans in a large kettle with 6 cups hot water, bouillon cubes, white pepper and onion salt. Bring mixture to a boil, cover, lower heat and simmer for 45 minutes or until peas are just tender. Drain peas and place in a large bowl; set aside.
Drain artichoke hearts, pouring marinade over peas. Chop artichoke hearts into bite-sized pieces and toss with peas along with remaining ingredients. Season to taste; cover and chill until serving time.
Makes 8 servings.