Blue Cheese Dressing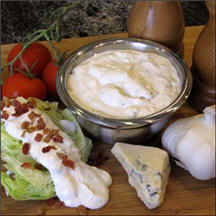 There is simply no comparison, homemade blue cheese dressing just tastes better than store-bought. Go ahead, try this recipe and see for yourself! It's the traditional dressing to top a cool and crisp iceberg lettuce Wedge Salad and the "cooling dip" served with a plateful of spicy hot wings and celery sticks, like our Mikey's Buffalo Wings.
Recipe Ingredients:
1 cup sour cream
1/4 cup buttermilk
2 tablespoons mayonnaise
1/2 teaspoon dried parsley
1 teaspoon Worcestershire sauce
1/2 teaspoon garlic powder
1/2 teaspoon kosher or sea salt, or to taste
1/4 teaspoon freshly ground black pepper, or to taste
4 ounces blue cheese, crumbled
Cooking Directions:
Combine all ingredients, except blue cheese, together in a medium mixing bowl, mixing well.
Add crumbled blue cheese and stir vigorously to combine well, allowing some crumbles to remain for texture.
Refrigerate for at least a few hours to allow dressing to "set up" and flavors to marry. Store in a covered container in the refrigerator for up to 2 weeks.
Makes 16 (2-tablespoon) servings or about 2 cups.
Nutritional Information Per Serving (2 tablespoons): Calories 65.13; Calories From Fat 50.58; Total Fat 5.7g; Saturated Fat 3.31g; Cholesterol 12.27mg; Sodium 185.47mg; Potassium 49.02mg; Total Carbohydrates 1.55g; Fiber 0.02g; Sugar 0.38g; Protein 2.14g.
Recipe and photograph by Hope Pryor; Copyright © 1999; property of CooksRecipes.com. See Terms of Use.