Brown & Wild Rice, California Walnuts
and Dried Cranberry Salad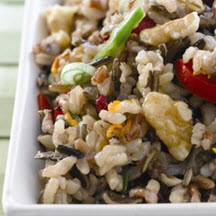 This colorful rice dish features dried cranberries, snow peas, red peppers and of course—walnuts. The orange zest and Dijon mustard give the salad a delicate but tasty twist. It can be served hot or cold.
Recipe Ingredients:
1 cup coarsely chopped California walnuts
2 cups water
1/2 teaspoon salt
1 cup brown rice and wild rice blend
1 garlic clove, minced
1 teaspoon minced orange zest
2 teaspoons coarse Dijon mustard
2 tablespoons orange juice concentrate
1/4 cup sherry vinegar
1/2 cup olive oil
1/2 teaspoon salt
1/2 cup dried cranberries
1/2 red pepper, quartered lengthwise, thinly sliced
3 green onions, thinly sliced
1/2 cup snow peas, sliced 1/4-inch on the diagonal
Cooking Directions:
In dry skillet, toast walnuts over medium to high heat for 1 to 2 minutes or until lightly browned.
In medium saucepan, bring water and salt to boil. Add rice, stir well, cover and reduce heat to simmer. Cook for 40 to 45 minutes or until rice is tender and all water has been absorbed. Remove from heat. Let stand 10 minutes.
In small bowl, combine garlic, orange zest and mustard; blend well. Whisk in orange juice concentrate and vinegar. Slowly whisk in oil and salt.
Transfer cooked rice to large bowl. Add half the orange mixture and toss gently to coat well. Cool to room temperature. Add walnuts, cranberries, red pepper, green onions and snow peas just before serving. Toss. Add remaining dressing to lightly coat vegetables. Toss again and serve.
Makes 6 to 8 servings
Recipe and photograph provided courtesy California Walnuts.