Caesar Salad with Parmesan Chips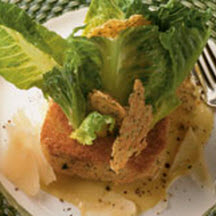 Good taste and an impressive presentation, this extraordinary Caesar salad offers both. Recipe by Chef Octavio Becerra.
Recipe Ingredients:
Parmesan Chips:
2 tablespoons water
2 teaspoons egg white
1/4 cup all-purpse flour
1 cup (3 ounces) grated Wisconsin Parmesan cheese
Herb Crouton:
1/3 cup extra virgin olive oil
1/3 cup melted butter
1 tablespoon each finely chopped Italian flat leaf parsley and thyme leaves
1 teaspoon freshly ground black pepper
1 brioche loaf, trimmed, cut into 2 1/2-inch cubes, hollowed as a doughnut
Caesar Dressing:
5 large cloves garlic, crushed
1/2 ounce pasteurized egg yolk product (equivalent of 1 egg yolk)
3 to 4 anchovy filets
1 teaspoon Dijon-style mustard
1 teaspoon red wine vinegar
1 teaspoon Worcestershire sauce
2 tablespoons fresh lemon juice
3/4 cup extra-virgin olive oil
2 ounces grated Wisconsin Parmesan cheese
Salt and freshly ground black pepper
6 hearts of romaine lettuce
Cooking Directions:
For Parmesan Chips: In bowl, lightly whisk water, egg white and flour. Stir in Parmesan cheese. Spread cheese mixture in circular manner, creating disks on non-stick baking sheet. Bake at 325°F (160°C) for 25 minutes until golden brown. Remove. Cool chips on hard surface.
For Herb Crouton: Combine olive oil, butter, parsley, thyme and pepper. Lightly coat brioche doughnuts with mixture. Place on baking sheet. Bake at 325°F (160°C) for 25 minutes until golden brown. Keep warm.
For Dressing: Add garlic, egg yolk product, anchovies, mustard, vinegar, Worcestershire sauce and lemon to blender container. Puree several seconds. Slowly add olive oil in thin stream. Add water if necessary to thin. Pour into bowl. Add cheese, salt and pepper. Toss romaine hearts with dressing.
To Serve: Center crouton on plate. Stuff with dressed romaine leaves as in vase. Garnish with Parmesan chips.
Makes 8 servings.
Tip: You can use your favorite prepared Caesar dressing to speed preparation.
Recipe and photograph courtesy of Wisconsin Milk Marketing Board, Inc.