Caribbean-Style Alaska Seafood Salad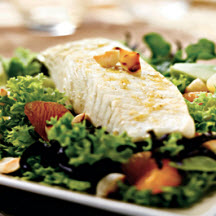 Recipe courtesy of Alaska Seafood Marketing Institute.
Recipe Ingredients:
Poaching Liquid:
2 cups orange juice
1 cup vegetable broth
1/4 cup teriyaki sauce
1/4 cup dark rum
1/2 cup coconut cream
1/4 teaspoon ground allspice
4 Alaska seafood portions (4 ounces each), fresh, thawed or frozen
Salad:
8 cups (about 6 ounces) salad greens
2 fresh mandarin oranges, sectioned or 1 (12-ounce) can mandarin oranges, drained
1 (8-ounce) can pineapple chunks, drained
1 avocado, sliced
1/4 cup chopped toasted nuts (macadamias, peanuts, almonds)
Dressing:
1/2 cup orange juice
1/4 cup poaching broth
1/4 cup rice vinegar
1/4 cup olive oil
1 1/2 tablespoons coconut cream
Salt and ground black pepper, to taste
Cooking Directions:
For Poaching liquid: In a large (12-inch) nonstick pan or stockpot, combine all ingredients except seafood. Bring to a simmer; cook 3 to 5 minutes.
Rinse any ice glaze from frozen Alaska Seafood portions under cold water.
Turn off heat and gently add seafood to liquid, skin side down. Return heat to a simmer.
Once simmering, cover pan and cook 4 to 5 minutes for frozen seafood or 2 minutes for fresh/thawed fish. Turn off heat and let seafood rest 5 minutes or until seafood is opaque throughout. Serve with salad.
For Salad: Prepare dressing by whisking orange juice, poaching broth, rice vinegar, olive oil and coconut cream. Add Salt and ground black pepper to taste.
Toss salad greens, pineapple and mandarins with 3/4 cup dressing.
For each serving, arrange 2 cups salad greens on a plate. Top with a seafood portion. Garnish with avocado slices and nuts; drizzle on an additional 1 tablespoon dressing.
Makes 4 servings.
Recipe and photograph courtesy of Alaska Seafood Marketing Institute.