Catalina Seafood Salad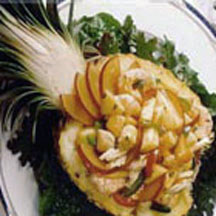 A chilled seafood and fruit entrée salad tossed with a tropical Catalina-style dressing. For a fitting presentation, serve this salad in halved pineapple shells.
Recipe Ingredients:
3/4 cup cooked shrimp (small shrimp or halved larger shrimp)
3/4 cup cooked scallops (if large, halve or quarter scallops)
1/2 cup Alaskan crabmeat, flaked
3/4 cup thinly sliced plums
1/2 cup thinly sliced pineapple
1/2 cup thinly sliced honeydew or cantaloupe melon
1/4 cup thinly sliced green pepper
1/4 cup thinly sliced red pepper
1 tablespoon minced parsley
Juice of 1 lemon
1 cup Catalina-style salad dressing
1 tablespoon tropical fruit juice concentrate
2 cup mixed greens, cleaned and torn into bite-size pieces
Cooking Directions:
In a large bowl, combine shrimp, scallops, crabmeat, plums, pineapple, melon, green pepper, red pepper and parsley. Drizzle lemon juice over all and toss to coat.
In a small bowl, combine Catalina-style salad dressing and fruit juice concentrate. Pour dressing mixture over salad ingredients. Toss and serve over mixed greens.
Makes 6 servings.
Recipe and photograph provided courtesy of The Association For Dressings and Sauces.