Cuban Pork Adobo Salad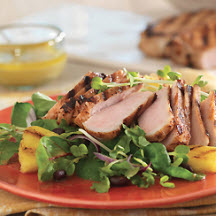 For a super-quick side, warm flour tortillas on the grill or griddle pan just until heated through and cut into wedges. Serve tortilla wedges with whipped honey-butter.
Recipe Ingredients:
4 New York (top loin) pork chops, 3/4-inch thick
2/3 cup lime juice*
3 cloves garlic, minced
1 teaspoon ground cumin
1/2 to 1 teaspoon salt
1/4 teaspoon ground black pepper
4 (1/2-inch thick) slices fresh pineapple, cored
5 ounces arugula, watercress, or assorted baby greens
1 (14.5-ounce) can black beans, drained and rinsed
1/2 small red onion, cut into thin slivers
3 tablespoons olive oil (plus oil for the grill grate)
1 teaspoon honey
Cooking Directions:
For the dressing-marinade mixture, in a small bowl whisk together lime juice, garlic, cumin, salt, and pepper. Reserve 1/4 cup of the mixture for the dressing in the refrigerator. For the marinade, transfer remaining mixture to a self-sealing plastic bag. Add chops; seal bag and refrigerate for 2 to 4 hour
Prepare a medium-hot fire with charcoal or preheat gas to medium high. Lightly oil grill grate.
Remove chops from marinade (do not pat dry), discarding marinade from the bag.
Grill chops and pineapple directly over heat, turning once, until internal temperature of pork on a thermometer reads between 145°F (62.7°C) for medium rare, and 160°F (71.1°C) for medium, followed by a 3-minutes rest, about 8 to 11 minutes.
Plate greens on 4 dinner dishes. Divide pineapple, black beans, and onion onto plates. Top with pork chops.
For the dressing, whisk the 3 tablespoon of oil and honey into the reserved dressing mixture; drizzle atop salads.
Makes 4 servings.
*Cuban cooking often calls for sour orange juice, which is less sweet and more acidic than common orange juice. If you can find sour oranges, such as Seville or Bergamot, substitute this juice for the lime juice. You can also use half lime juice and half orange juice.
Nutritional Information Per Serving (1/4 of recipe): Calories: 490; Total Fat: 18g; Saturated Fat: 4g; Cholesterol: 120mg; Protein: 49g; Sodium: 860mg.
Recipe and photograph provided courtesy of National Pork Board.