Egg Salad Pizza Cones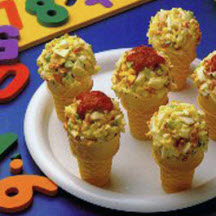 Here's a fun and tasty way to serve egg salad that kids will love.
Recipe Ingredients:
1/4 cup bottled reduced-fat creamy Italian salad dressing
1/2 teaspoon Italian seasoning, crushed
6 hard-boiled eggs, finely chopped
1/4 cup sliced green onions with tops
1/4 cup minced pepperoni
6 plain, flat-bottomed ice cream cones
Chopped mushrooms, green peppers, black olives as desired
3/4 cup pizza sauce
2 tablespoons freshly grated Parmesan cheese
Cooking Directions:
In medium bowl, stir together dressing and seasoning. Stir in eggs, onions and pepperoni. Cover and refrigerate until ready to serve.
To serve, scoop about 1/3 cup of the mixture into each cone. Top with about 2 tablespoons pizza sauce and mushrooms, peppers and olives as desired. Sprinkle each with about 1 teaspoon cheese.
Makes 6 servings.
Recipe and photograph provided courtesy of the American Egg Board.